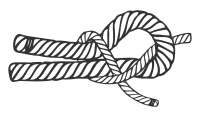 Sheetbend
Kevin Cowtan, University of York, July 2018
. Last updated July 2018.
| | |
| --- | --- |
| Colophon | A sheet bend is a knot that joins two ropes together. |
'sheetbend' performs model morphing by shift field refinement. This is a very fast form of preliminary refinement which can be applied as a precursor to conventional refinement. It can be applied at any resolutions, and when used at low resolution is particularly suited to correcting large shifts in secondary structure elements in molecular replacement. It can also be used to refine B factors.
The latest version of the software is available through the CCP4 source code respository in the clipper-progs package. It is not currently integrated into the build system, however it can be built using a simple Makefile after running the CCP4 setup script. The following commands should download and build it:

mkdir sheetbend
cd sheetbend
bzr checkout http://fg.oisin.rc-harwell.ac.uk/anonscm/bzr/clipper-progs/trunk
cd trunk/src/sheetbend/
wget http://www.ysbl.york.ac.uk/~cowtan/sheetbend/Makefile
make

Information:
---
Latest News
19/07/18:

Initial release.

01/08/18:

0.2 release with fixes for multiple cycles and R-factor output.